Itineraries from our b&b
From the quiet of San Gimignano you can discover the most important villages and towns in Tuscany such as Siena, Florence, Volterra, Lucca, Crete Senesi, Montalcino, Pienza, Chianti and he countless villages of this magnificent region.
SAN GIMIGNANO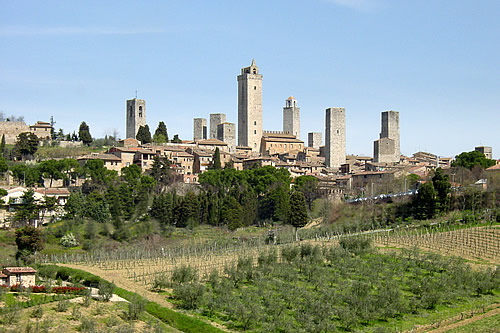 San Gimignano, only 4 km from our B&B, has been declared a UNESCO World Heritage Site for the characteristic medieval architecture of its historic center which remained largely intact from the middle age.
It is one of the major examples of ancient urban organization among Europe. Of the 72 towers that were built during the Golden Age of the village, there are now twelve of them that are still present.
The oldest one is the Tower of Rognosa, while the highest is the Tower of the Podestà, also known as the Big Tower.
Lately the FAI (an important Italian cultural association) restored the Campatelli Tower situated in Cisterna Square, and considered one of the most representative of the town (now it is possible to visit it).
SIENA
Siena is the capital of the homonymous province. It is 40 km from San Gimignano. The city is universally known for its artistic heritage as well as for its famous Palio.
The historic center has been declared a UNESCO World Heritage Site.
On the 2nd of July and on the 16th of August in Siena, in Piazza del Campo, there is the Palio, a race of horses mounted without saddles between the 17 different districts of Siena.
VOLTERRA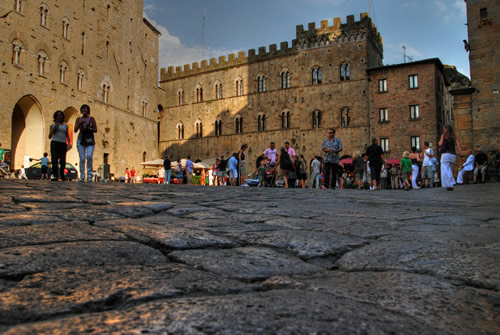 Volterra, 25 km from our B&B,, known for the extraction and processing of the alabastro stone, has a remarkable historical center of Etruscan origins.
Of that time there are still present the Arch Door, the Diana Door and much of the ancient walls.
You can also admire romanic ruins and medieval buildings such as the Cathedral and the Palazzo dei Priori on the homonymous square, the hub of the town.
Noteworthy is the Etruscan Guarnacci Museum, which is located in Via Don Minzoni and contains one of the most beautiful Etruscan collections of Tuscany.
Other Destinations to See
> The Chianti Region
> Florence 50 km
> Monteriggioni 30 km
> Pisa 75 km
> Certaldo 13 km
> Montalcino 80 km
> Pienza 110 km
> Montepulciano 100 km
> Lucca 120 km